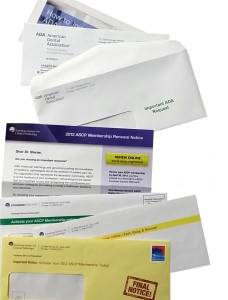 For more than 30 years we have helped a diverse group of associations recruit and retain members, market products, and promote meetings. Having seen what works both in and outside the association world, we bring innovative ideas and outstanding execution of programs to help increase revenue and improve response rates.
Our experience includes detailed planning and management of programs to:
Improve response rates for membership acquisition and retention programs
Increase attendance at meetings, conferences and seminars
Grow revenue via sales of books, webinars, educational materials, events and more.
Recruit younger members and/or get them more involved
Help develop and enhance member relationships with your association and build loyalty.
Among the many prominent associations who have relied on us for their marketing needs are:
| | |
| --- | --- |
| Association for Corporate Growth | American Dental Association |
| American Society for Clinical Pathology | American Society of Safety Professionals |
| Health Administration Press | United Fresh Produce Association |
What matters most, of course, are the results achieved by clients such as these. The numbers tell the story:
Savings of more than $10,000 in production costs for a client's member-acquisition program. The integrated member card/brochure we designed also streamlined their fulfillment process.
Savings of more than $11,000 and faster delivery resulted from a new-member kit we created for a client.
A response rate more than 100% higher than in prior years, achieved by a lapsed-member mailing we designed and implemented for a client.
Like many associations today, yours may be operating on a tighter marketing budget than in past years. That's understandable, as many professionals now struggle to fit association membership into their busy schedules.
That's also why we constantly look for opportunities to help associations get the most out of every marketing dollar. Two solutions we encourage all our clients to consider are:
ChapterLink™ is our web-based solution that makes it easy for your chapters to promote your organization locally with logo-imprinted items. Besides saving you time and costs, it provides full support to your chapter contacts, from online-proofing their orders to tracking of billing and shipping.
Learn more about ChapterLink™
PURL (Personalized URL) Marketing can improve attendance at events and reduce printing and mailing costs. Instead of sending brochures to your entire list, PURLs allow members to "RSVP online" to your meeting, identify which sessions or topics are of most interest, and directly link to online registration. You can then target future mailings based on interests.
Learn more about PURL Marketing.
See how a PURL (Personalized URL) can fit into an integrated marketing campaign by clicking the diagram below (to show it at full size). A sample PURL link is shown in step #2 of the diagram: