Have you noticed the reaction you get simply by wearing newer or nicer clothes? From one person to the next, it's consistent: their first glance is followed by a "Wow!"
Your marketing materials can enjoy a similar "wow factor" with our creative packaging and presentation solutions.
W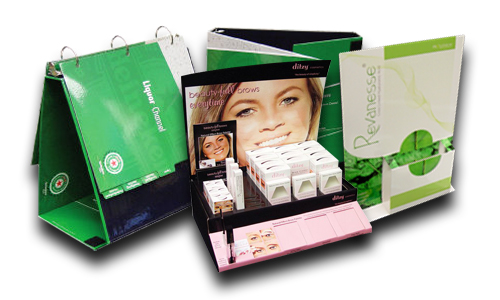 e offer a variety of custom and stock solutions to make your brand shine. We combine state-of-the-art offset and digital capabilities with paperboard, corrugated and rigid packaging options. We can also digitally print your packaging to customize it with variable data, versioning or personalization.
Of the many formats we provide, some of the most popular are:

Custom Packaging, Boxes & Totes: You need packages that get noticed, get opened and get results. It isn't about cost per piece but rather cost per response. Dimensional, customized and personalized mailers can yield great results.
Presentation (Pocket) Folders: Custom pockets, folder sizes, die cut shapes and more are available to meet your presentation needs.
Sales Kits: Professionally imaged custom sales kits are the first step to gaining customers and selling your product. When your sales kit stands out, your brand gets noticed.
Software Packaging and Media Kits: Showcase any CD, DVD, or USB flash drive. We can also source your media storage and replicate any data.
Binders Tabs & Dividers: Case bound, paper board, vinyl or poly binders with rings and/or pockets along with standard or custom tabs and dividers can help deliver your next presentation. Of course we can print the inserts as well.
POP Displays & Easels: Professional, free standing point-of-purchase displays provide continued exposure to your sales and marketing messages.
From concept to fulfillment, we can manage the multiple components of your custom project.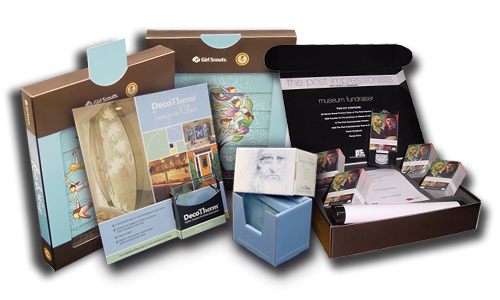 Once we identify your needs and a likely solution, our structural-design team will create a digital representation of your package using Computer Aided Design (CAD). We can then prototype your project with a handmade sample.
After you approve the prototype, we provide a "blank canvas" template from the CAD file for your creative-design team (or ours, if you prefer) to develop the branding, marketing message and product presentation.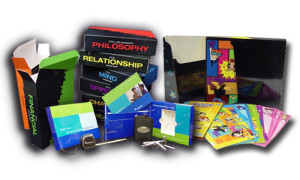 Your finished package will match your design precisely because our detailed process eliminates worries about critical details such as score lines, glue strips, tuck-flaps and die-cutting tolerances. We will provide all the production specifications and information you may need.