Protect your employees, customers and visitors with our new line of high-quality disposable masks and return-to-work items.
Fabric Masks*
Made of multi-layer fabric, these washable masks adhere to face covering guidelines.
Intended to reduce the potential spread of the virus from you to others.
Multiple styles and options are available.
KN95 Masks*
The next best thing to medical-grade masks!
Blocks approximately 95% of tiny particles, down to 0.3 microns — the hardest to capture.
(For comparison, a human hair is about 70 microns.)
Provides a strong enough barrier that you cannot blow out a match or smell strong scents.
Water can't penetrate the mask from the outside.
Disposable 3-ply Masks*
Great masks to have on hand for clients and visitors.
Filters approximately 50-65% of particles.
Intended to reduce the potential spread of the virus from you to others.
*NOTE: The masks above are NOT approved for medical use or to protect against exposure to bodily fluids, gases or vapors, or hazardous liquids. Masks do not eliminate the risk of contracting disease or infection. For the safest use, these masks should be disposed of (or washed, in the case of fabric masks) after a single use.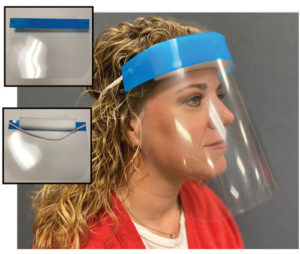 Plastic Face Shields
Add an extra layer of protection with these curved plastic shields!  
Use over a mask to provide an additional barrier.
Both disposable and multiple-use styles available.
Multiple headband and closure options available.
Return-to-Work Items
Keep your employees and visitors safe at the office and communicate best practices to prevent illness.
Hand Sanitizer
Employee Health Safety Communication Kits – we can design a box or other kit, fulfill all the items needed, personalize any literature or letters, and mail to each employee and/or office locations.
Pens – Regular or Anti-Microbial.  Provide extra pens for guests to keep after using.
Contact tracing forms for visitors to identify any symptoms or risks.
Hygiene awareness signage
Safe distance and aisle signage
Personal PPE kits
Paper rolls for table coverings
No-touch hook with stylus to reduce physical contact
Sanitizing stands
 
MaskSnaps
Purchase these ear-saving devices for your own employees, as a promotional item — or donate a supply to front-line workers with your logo prominently displayed!
RELIEF FOR FRONT-LINE HEROES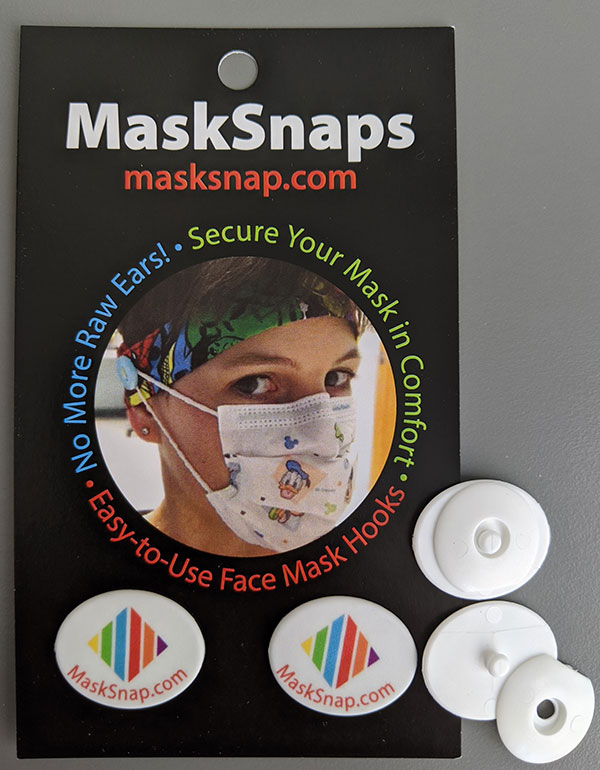 Raw ears from face mask loops are a common complaint from health care professionals and other essential workers.
MaskSnaps secure masks to headwear, eliminating pressure on the ears.
HOW THEY WORK
The front and back pieces of a MaskSnap are placed on either side of a head garment, pressed together, and locked in place. Mask loops are then hooked around the MaskSnap.
Use with a hat, bandana, skull cap, or other
head garment
Easy to clean and sanitize
Interchangeable
Recyclable and reusable
To see MaskSnaps in-action watch this 15 second
MaskSnap Video 
ORDER YOUR BRANDED MaskSnaps TODAY !