Case Study: American Dental Association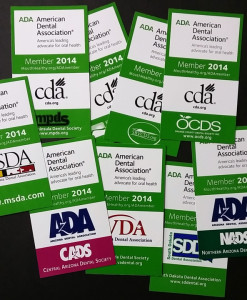 The American Dental Association wanted to give their 52 chapters the ability to include their individual state and society logos on their decals to promote their local brand and build member loyalty. The decal needed to stick to glass or wood, be removable after a year without damage to the surface, and be seen through either side of a window or door.
We selected an appropriate adhesive, identified a production method to print the material on 2 sides and produced 245 different versions of the decal, each with their unique logos, colors and society information. And that was the easy part.
We also designed a system to manage, coordinate and consolidate orders, shipping information, proofs, approvals, fulfillment and delivery information for the 52 participating chapters. For each of the last 12 years we have provided over 245 different versions of decals as well as detailed fulfillment to each participating chapter.